2019 Qiansen Trophy UCI BMX Racing C1 Event
Application is now OPEN!!! Prize Money have been updated!!!
Race Date: 2019 Qiansen Trophy UCI BMX Racing C1 event on UCI calendar (two races) --------17th and 18th August
Registration link: https://www.wjx.top/jq/36879321.aspx
Enquiry email: cycling@qiansen.com
Flight info link: https://www.wjx.top/jq/36573591.aspx
Facebook: Search for Yanxing Song
Telephone: +8601067171263
1. Place and Time
Two C1 Races will start on 17th and 18th Aug 2019 in Aohan County. Chifeng City, Inner Mogolia. Please Note that race online application in this year is open now! All participants must submit application online.
Note: This year LOC is offering flexible service for all riders. BMX Riders can either choose Chifeng Yulong Airport (CIF) or Beijing Capital International Airport (PEK) for arrival and deparatrue. Riders who take CIF for arrival please DO NOT transfer at Beijing Nanyuan Airport(NAY)as luggage is limited. Detailed plan will be illustrated in Chapter 6.
2. Official Contact Information of LOC
Pre-Registration will end on 10th Aug, 2019. Please send the application form to the mail address of Local Organizing Committee (LOC) demonstrated below, please do not contact through other email address:
cycling@qiansen.com
Facebook: Yanxing song
Twitter: @QiansenS
4. Registration Notice
4.1. Registration Requirements
The event will be open for Men Elite (17 years and older) and Women Elite (17 years and older). Please indicate your UCI code and UCI ranking in the application form. Registration Process are as follows:
4.2. Pre-registration
Initial step is pre-registration. All teams need to fill out the application form and submit to the LOC. Thereafter LOC will review and screen the qualifications of the participating teams. List of approved racers will be posted on official website and Facebook. When riderss receive official invitation letters, it means they are approved from pre-registration.
4.3. Visa Application
Second step is visa application. After successfully passing the pre-registration, riders shall apply China Visa attaching with the invitation letters. Airplane tickets can be bought after new visa is accepted.
4.4. Qualification Confirmation
Final step is racers' qualification confirmation, which will start after all teams arriving in Aohan County. UCI appointed commissaire will assess and confirm riders' qualification by checking UCI licenses. Teams with confirmation are officially allowed to race such event.
5. Reward
5.1. Prize Money (Elite Men and Elite Women)
Prize Money of riders will be provided in terms of Figure 1.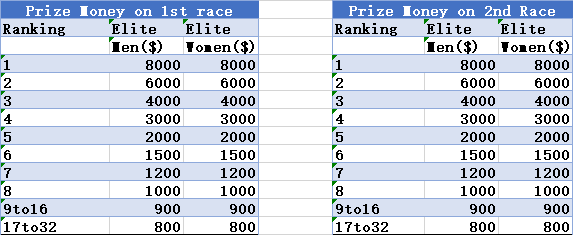 Figure 1: Prize Money Provision
6. Relevant Service
Detailed information of BMX track and hotel will be revealed later. Please refer to LOC's official website and Facebook account: Yanxing Song.
6.1. Free Pick-up and Drop-off Service

As the number of flights to CIF is limited, riders shall reserve flight tickets very sooner, otherwise PEK will be the only option. Detailed plan is in Figure 2. DO NOT transfer at Beijing Nanyuan Airport(NAY)to CIF as luggage is limited. Also, according to Chinese Transportation Policy, Buses are not allowed on road between 2am to 5 am, thus riders must reserve return flights in terms of free service time in Figure 2. LOC will not take responsiblity for riders who do not follow the schedule below. Riders transfer in Beijing shall take Beijing Capital International Airport (PEK) rather than Beijing Nanyuan Airport as luggage weight is limited. People who arrive earlier or later than that shall pay $200 per person for personal transportation and $100 for extra room and catering.
Figure 2: Detailed Plan for Free Pick-up and Drop-off
Please check the baggage requirement for national flight form PEK to CIF in advance (for riders fly to CIF only)
http://www.airchina.com.cn/en/info/travel-prep/baggage/domestic-checked-baggage/domestic_checked_baggage.shtml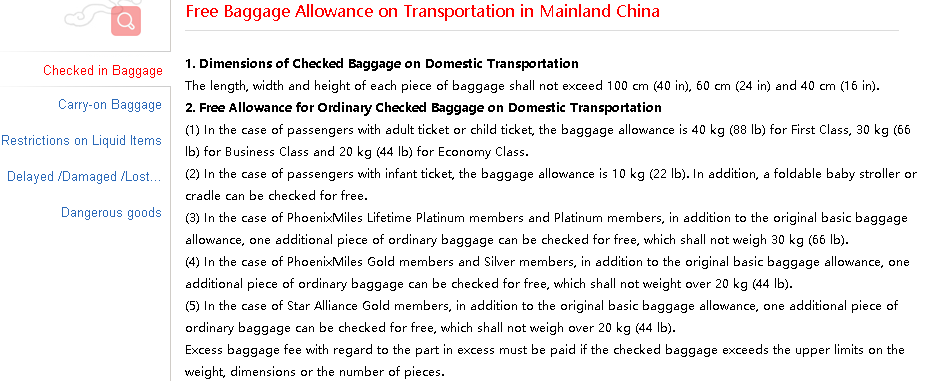 Figure 3: Air China National flight baggage allowance
6.2. Accommodation and Catering
LOC will take care of riders and managers' accommodation and food from 15th to 19th Aug Morning.
Please inform us in advance if there are extra members (i.e. ratio of rider to team manager is higher than 2:1), or whether there are couples that need stay in the same room. The rooms are arranged by LOC and normally not changeable. If you really need to change, please inform the LOC for approval.
Also, in order to leave a great experience for all participating teams, LOC will arrange welcome banquet and farewell dinner after the match, in which there will be a gift change for the teams. LOC will prepare exquisite Chinese cultural gifts and exchange them with all teams. Therefore, LOC encourage participants to bring any kind of gifts from your country for exchange.
Please note that during the stay, the cost of minibar or any damage of the supplies and equipment in the hotel rooms must be covered by the teams. Toiletries like towels can only be used for body cleaning, not for other usage like bike washing.