2019 Qiansen Trophy UCI Cyclo-cross C1 Event
Application is now OPEN!!!
Race Date: 2019 Qiansen Trophy UCI Cyclo-cross C1 event on UCI calendar (two races) --------1st and 7th Septemeber
Registration link: https://www.wjx.top/jq/34821708.aspx
Enquiry email: cycling@qiansen.com
Flight info link: https://www.wjx.top/jq/36878961.aspx
Facebook: Search for Yanxing Song
Telephone: +8601067171263
1. Place and Time
Two C1 Races will strat on 1st and 7th Sept 2019 in Aohan County and Fengfeng Districts, same two places as last year. Please Note that race online application in this year is open now! All participants must submit application online.
Note: Cyclo-cross Riders must choose Beijing Capital International Airport (PEK) for arrival and deparatrue. Detailed plan will be illustrated in Chapter 6.
2. Official Contact Information of LOC
Pre-Registration will end on 20th Aug, 2019. Please send the application form to the mail address of Local Organizing Committee (LOC) demonstrated below, please do not contact through other email address:
cycling@qiansen.com
Facebook: Yanxing song
Twitter: @QiansenS
4. Registration Notice
4.1. Registration Requirements
The event will be open for Men Elite (17 years and older) and Women Elite (17 years and older). Please indicate your UCI code and UCI ranking in the application form. Riders to Team managers ratio shall not higher than 2:1 in each team. In other words, two riders can have a mechanic in each team. Registration Process are as follows:
4.2. Pre-registration
Initial step is pre-registration. All teams need to fill out the application form and submit to the LOC. Thereafter LOC will review and screen the qualifications of the participating teams. List of approved racers will be posted on official website and Facebook. When riderss receive official invitation letters, it means they are approved from pre-registration.
First group of approved teams will be posted in the end of May. The second batch of candidates will be released in June, and the rest of approval by August. Please Do Not purchase any airline tickets before being approved in pre-registration.
4.3. Visa Application
Second step is visa application. After successfully passing the pre-registration, riders shall apply China Visa attaching with the invitation letters. Airplane tickets can be bought after new visa is accepted.
4.4. Qualification Confirmation
Final step is racers' qualification confirmation, which will start after all teams arriving in Aohan County. UCI appointed commissaire will assess and confirm riders' qualification by checking UCI licenses. Teams with confirmation are officially allowed to race such event.
5. Reward
5.1. Prize Money (Elite Men and Elite Women)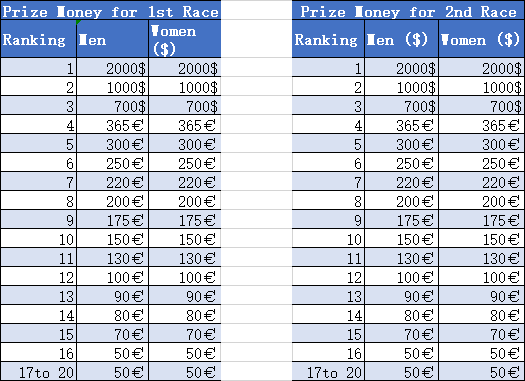 Prize Money of riders will be provided in accordance with figure above.
5.2. Entry fee for next season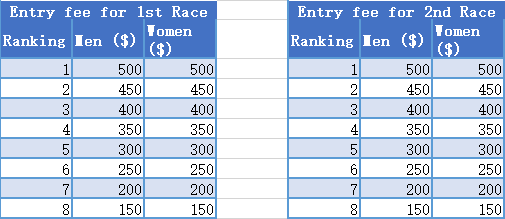 6. Relevant Service
6.1. Free Pick-up and Drop-off Service
Detailed plan is in Figure 2. Also, according to Chinese Transportation Policy, Buses are not allowed on road between 2am to 5 am, thus riders must reserve return flights in terms of free service time in Figure 2. LOC will not take responsiblity for riders who do not follow the schedule below. People who arrive earlier or later than that shall pay $200 per person for personal transportation and $100 for extra room and catering.

Figure 2: Detailed Plan for Free Pick-up and Drop-off
6.2. Subsidy
Subsidy is prepared by Qiansen Group in accordance with concern to award riders and managers, which will be given out only once. This will be issued after Cyclo-cross events in Handan. Before that please solve financial problems (ex. airplane tickets, baggage fees, and visa application fees etc.) in advance by yourself. Details are in Figure 3.Requirements are as follows:
a) Racers shall participate and finish both two events. Those who have not finished both events are not allowed to obtain it. Any team beyond 2:1 ratio cannot get any subsidy.
b) Each team shall provide their payment confirmation or receipts of airplane tickets at the moment. Those who without receipts or confirmation are not allowed to obtain subsidy.
c) For team manager, each racer in his/her team must finish two races so that team manager can obtain allowance. Those whose team members have not finished all events are not allowed to obtain it.

Figure 3: Details of subsidy
6.3. Accommodation and Catering
Please inform us in advance if there are extra members (i.e. ratio of rider to team manager is higher than 2:1), or whether there are couples that need stay in the same room. The rooms are arranged by LOC and normally not changeable. If you really need to change, please inform the LOC for approval.
$150 per night per single room and $200 per night per double room (meals included) will be charged for extra members, early arrivals or late departures. Please inform us above cases when submitting the application form.
Also, in order to leave a great experience for all participating teams, LOC will arrange welcome banquet and farewell dinner after the match, in which there will be a gift change for the teams. LOC will prepare exquisite Chinese cultural gifts and exchange them with all teams. Therefore, LOC encourage participants to bring any kind of gifts from your country for exchange.
Please note that during the stay, the cost of minibar or any damage of the supplies and equipment in the hotel rooms must be covered by the teams. Toiletries like towels can only be used for body cleaning, not for other usage like bike washing.
7. Introduction of Host Place Fnegfeng District
7.1. Handan City, Hebei Province
Set in the south of Hebei province, Handan is a natural and cultural resort where water resource, mineral resource and biological resource are found in abundance. A place that has captured the hearts and imaginations of visitors from all walks of life over the centuries, especially when visiting the brilliant and compelling tourist spots, such as Huang Mountain, Fuyang River and Qin river. Moreover, Handan is also an ancient city that preserves a sort of well-known historical relics (e.g. Bronze Swallow Terrace, General Hills, Zuoquan Tomb and the former site of People's Daily). A historical city that generates Chinese set phrase and allusions, Tai Chi and Compass.
7.2. Historical and Cultural Background
Handan, a national famous historical and cultural city, is represented by Chao Culture-Shooting on horse in Hu dress (i.e. Chinese apparel dress for cavalry). The mixture of Centre-China culture and Northern Grassland Culture is well preserved, greatly reflecting the process from conflict to assimilation among Northern Peoples.
Furthermore, Mountain Ci Culture is also characterized as one of the most significant culture in Handan. Grain crop, Chinese domestic chicken and walnuts initially originate in Mountain Ci, which not only reflects that the local ancestors make great contributions to human's survival and development through knowing, utilizing and transforming the nature, but rewrites the history of these discoveries above mentioned.
Finally, Handan is the birthplace of Nuwa Culture (i.e. a goddess in Chinese mythology). For thousands of years, folklores, folk beliefs and folktales passed down by locals combined and created an abundant and mysterious ancient culture throughout China. For example, Wa palace is the representative of Nuwa Culture, showing the unyielding spirit of Nuwa in fighting against nature, transforming nature and benefiting human beings, finally winning the palace the name of Huaxia Ancestral Temple for the reason that Nuwa- the creator of human-used a clod of earth to create man. Wa Palace is located in She County, perching on the cliffs and being in exquisite and magnificent designs, is known as one of the Ten Wonders of ancient structure in Hebei province.
7.3. Homeland of Kongfu
The event place-Fengfeng District is famous for Chinese Kongfu. Three- hundred years ago, Hongquan (i.e. a kind of Chinese boxing) first derives from Hou Xizuo Village, Fengfeng District. A fist position characterized by the combination of softness and hardness, providing viewers a visual feast, spreading throughout China, even in some areas of Australia, America, Canada and Southeast Asia. In 2015, Hongquan was listed in the Guangzhou municipal nonmaterial cultural heritage list.
7.4. Caves at Xiangtang Mountain
Set in the south of Hebei Province, a place that has a warm temperate continental monsoon climate, Fengfeng District is a National 4A scenic spot and distinguished as the historical relics of Chinese Buddhist Culture. The venue-Xiangtang Mountain Scenic area lies in the foothills of the southern section of the Taihang Mountains, including 16 grottoes, and more than 4000 statues. These grottoes are deep and all built in the finest rocks in beautiful Drum Mountain, where people will hear echoes after clapping hands and swinging sleeves. Hence the name of Xiangtang.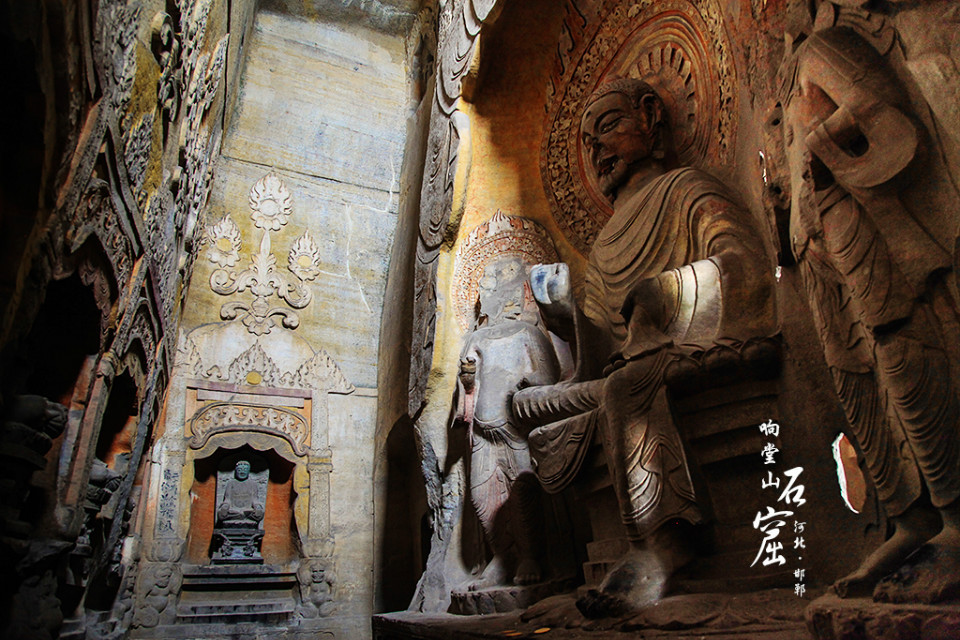 8. Introduction of Host Place, Aohan County
8.1. The historical and cultural background of Aohan County
Located in the southeast of Chifeng City, a place with a continental monsoon climate, whose topography is an irregular flat gradient that gradually inclines from southeast to northwest, Aohan County is the birthplace of early Chinese civilization. For example, Xing Longwa site, having a history of 8000 years, is praised as The First Village of Chinese, containing almost 5000 cultural relics. It is also reputed as the earliest layout of Urban Planning and Construction in China and miracle in the History of World Architecture (containing 188 buildings arranged in order, 2 largest situated in centre as the place of deliberation).
Moreover, Xing Longwa site is the birthplace of dry farming in the world. The carbonated chestnut and millet selected in Xing Longwa site, through testing by Laboratory of Archaeology in Chinese Social Sciences, Harvard University and The University of Toronto, is finally considered as the earliest seeds of millet in Northern China, 2700 years ahead of Europe. Hence it is defined as the birthplace of dryland farming across the whole Eurasian continent. On August 18, 2012, the dry farming system of the Aohan Banner was listed as an important agricultural cultural heritage of the world by the Food and Agriculture Organization of the United Nations (FAO) and the Aohan Banner became an important agricultural cultural heritage site in the world.
8.2. Birthplace of 'Jade Pig Dragon'
China, this nation of dragons in the ancient oriental verve continuing for 5000 years, is a country with a long history.'Jade Pig Dragon' explored at Aohan County is known as the earliest prototype of dragon, which is also the first jade dragon.
8.3. The Natural Resource in Aohan County
Natural resources are found in abundance in Aohan County, containing 713 kinds of plants, especially famous for liquorice whose annual output is more than 700,000 kg, containing 20 sorts of minerals, especially abundant in gold. Aohan County, dominated by agriculture, is the combination of agriculture and animal husbandry. Aohan is also a famous agricultural county, covering 148,000 hectares cultivated land, mainly planting grain crop, sunflower, corn, buckwheat, sorghum and rice exported to all parts of the country.
Moreover, grasslands are widely available for breeding Aohan fine-wool sheep for both wool and meat, available for the development of forestry production, are one of the pilot areas of "three North" shelterbelts.
8.4. Traveling in Aohan County
Hu Mountain, located in Aohan Banner, four distinct seasons, is a popular holiday resort, a place contains National Nature Reserve--Black Mountain, Qingquan Valley distinguished for inartificial forests, unique lakes and distinctive stones, Xiangshui Waterfalls and hot springs.
Besides, Hongshan reservoir, also named as Hongshan Lake whose storage capacity is 2.56 billion cubic meters, is the largest reservoir in Northeast China.